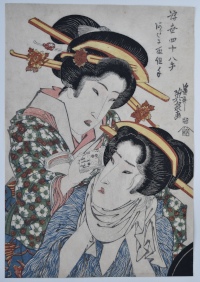 Click here to view image full size.
Two beauties in front of a mirror, Ada ni torikumite, "Grudge Match" from a set Ukiyo shiju hatte, "Forty-eight Habits of the Floating World." This was a popular title for sets of prints – especially during the next thirty years. The sub-titles are quite obtuse, whereas in later series – for example Kuniyoshi's set of c 1846 – the meanings are self-evident. A fine double okubi-e set published by Matsumura Tatsuemon, c 1821-22. Eisen was a prolific and repetitive artist but produced some fine landscapes and okubi-e sets. Rare.
Fine impression. Slight fading and minor soil, otherwise very good condition. Signed Keisai Eisen ga.
Status: Available