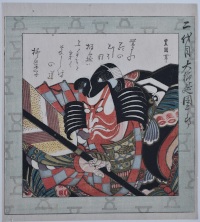 Click here to view image full size.
A surimono showing the actor Ichikawa Danjuro II as Soga no Goro Tokimune holding the giant arrow prior to sharpening it on the large wetstone from the play Yanone Goro. From a series of surimono that paid tribute to the various generations of the Danjuro family. There are two versions of this set of surimono and some ambiguity as to which is the earlier. They are known with blank borders, lacking metallic pigments and signed Ko Toyokuni hitsu (except one design signed Toyokuni II and probably issued in 1833). The other, as here, is signed Toyokuni hitsu, has metallic pigments and the emblem of the Gogawa Poetry Club around the border. The poets were also changed for this issue. It seems that the first version was issued by the Danjuro Fan Club in 1825 and that the reissue, c 1830s, was by the Gogawa. One poem by Ryueishi. The finest design from the set.
Very fine impression with metallic pigments. Fine colour and condition. Signed Toyokuni hitsu.
Status: Available