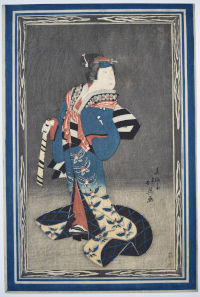 Click here to view image full size.
Shows the actor Arashi Rikan II as the yako Koman holding a shakuhachi and posed within a wooden frame in the play Sugata kurabe deiri no minato, "Comparison of Fighting Figures at the Harbour." Performed in 1834 at the Naka Theatre, Osaka. A yako was a chivalrous servant, usually of a samurai. Rare: Another impression is in the MIA, acc. no P.75.51.188.
Fine impression with the woodgrain enhanced on the background. Fine colour and condition. Signed Shunbaisai Hokuei ga with the carver's seal bottom right Kasuke.
Status: Available