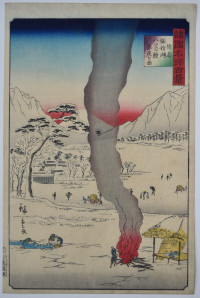 Click here to view image full size.
Shinshu Suwa-ko yatsume akauo wo to (ru). Shinshu (Shinano) Province from Shokoku meisho hyakkei, "Hundred Views of Famous Places in the Provinces." An uncompleted set of 81 prints published by Uoya Eikichi between 1859-1861 (this being 1860). A winter scene showing figures catching lampreys, eels and red rockfish in Lake Suwa. The lake was unusual in having warm currents beneath the ice, even in mid winter.
Fine impression of first edition. Fine colour and condition. Signed Hiroshige ga.
Status: Available