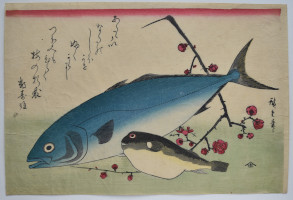 Click here to view image full size.
Inada, yellowtail or amberjack (Seriola quinqueradiata) and fugu, blowfish or puffer (Fugu pardalis). Together with plum blossom. Poem by Suzugaki. From the second set of 9 prints published by Yamasho, c 1840-42. (Some designs on the reprints have the publisher's mark Marujin.)
Extremely early impression before the block defect below the fugu's tail is evident. Fine colour with extensive mica on the inada. Some slight creasing, otherwise very good condition. Full size. Signed Hiroshige ga.
Status: Available