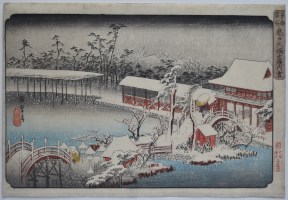 Click here to view image full size.
Kameido Tenmangu keidai no yuki, "The Compound of the Tenman Shrine at Kameido in Snow." From a set of twenty-one prints Toto meisho, "Famous Views in the Eastern Capital" published by Sanoya Kihei, c 1834-5. The series was extended to fifty-five in c 1839-42. One of the most famous places in Edo. Known for its pergola, two drum bridges, koi ponds and the wisteria which flowered in the fifth month. The main shrine is dedicated to the memory of Sugawara no Michizane (Tenjin), the father of Japanese learning and built in 1662. The design comes in various states: Late editions have a black sky and the red publisher's seal on right margin is replaced with an abbreviated Sanoki seal in black. Even later editions show a slipping plug becoming evident on the edge of the water, centre left.
Fine impression and colour. Probably the earliest printing. Slight trimming on right margin, otherwise very good condition. Signed Hiroshige ga.
Status: Available
v