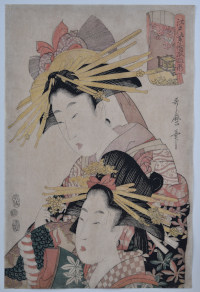 Click here to view image full size.
A courtesan and her Shinzo from a set Edo murasaki edoru hinagata, "Models Designed in the Purple of Edo." A bluish purple as opposed to the more reddish purple from Kyoto. A pigment that had been extremely expensive and reserved for the elite few, but became cheaper and more accessible during the Edo period, fuelled by leading actors – such as Danjuro – wearing an Edo murasaki headband. Published 11/1807. Publisher unread.
Very good impression, colour and condition. Signed Utamaro hitsu.
Status: Available