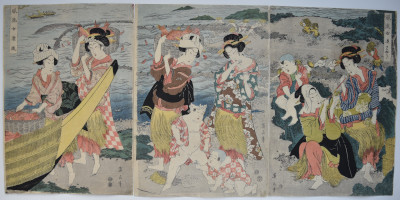 Click here to view image full size.
A triptych Furyu onna ryoushi, "Fashionable Fishing Women." Shows beauties on the seashore collecting fish and loading them onto a boat for market. In the background, fishermen with nets. Published by Iwatoya Kisaburo (Eirindo), c 1817. The Japanese love seafood and, being surrounded by water, there is an abundance of fish and crustaceans as anyone who has visited the central fish market in Tokyo can attest to.
Fine impression. Very good colour. Small areas of expertly repaired wormholes, otherwise very good condition. Signed Eizan hitsu.
Status: Sold