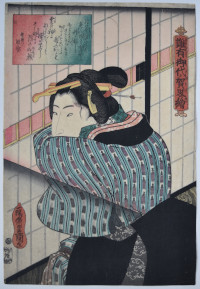 Click here to view image full size.
A woman peering through a gap in a shoji from a set Arigataki miyo no kage e "Shadow Pictures for Our Blessed Times." Published by Maruya Seijiro c. 1845-6 and is based on strong light sources shining on beauties. This chiaroscuro technique was pioneered by Shumman and used by Utamaro and Toyokuni I.
Fine impression, colour and condition. Signed Ichiyosai Toyokuni ga.
Status: Available