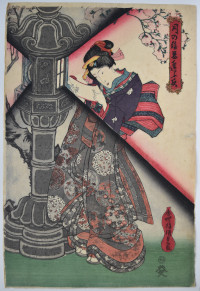 Click here to view image full size.
A stone lantern strongly illuminating a beauty reading a missive from a set Tsuki no kage shinobiau yoru, "Secret Meetings by Moonlight." Published by Yamamotoya Heikichi c. 1836-38 and is based on strong light sources shining on beauties. This chiaroscuro technique was pioneered by Shumman and used by Utamaro and Toyokuni I.
Fine impression and colour. Small wormhole at right edge, otherwise very good condition. Signed Kochoro Kunisada ga.
Status: Sold