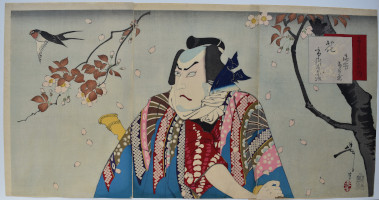 Click here to view image full size.
Hana, "Flowers" from the set Setsugekka no uchi, "Snow, Moon, and Flowers." Shows the actor Ichikawa Sadanji as Gosho no Gorozo. The main character in the play Soga moyo tateshi no goshozome, "The Story of Gorozo, the Chivalrous Commoner." A convoluted plot (as usual) with the samurai Gorozu becoming an otokodate upon being expelled by his family because of an undesirable love affair. Gorozu ends up killing his old master's lover, Oshu. Published by Akiyama Buemon, 1890. A fine set of bust portraits.
Fine impression, colour and condition. Signed Yoshitoshi.
Status: Sold