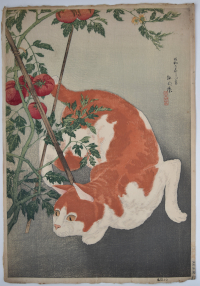 Click here to view image full size.
A large design (20 x 13.75 in; 51 x 35 cms) on thick hosho showing a ginger cat and tomato plant. Two versions are known of this design: As here and with the cat having a black and white coat. An edition of only 100 prints was published by Fusui Gabo, 1931. This is an extremely rare proof print with the printer's seal hand-stamped bottom right Ono Tomisaburo. At the bottom are the numerals: 6.12.10 standing for Showa 6, 12th month, 10th day (1931). Interestingly, the published edition of prints employs baren-suji – the pattern of baren marks left in the background, not evident on this proof. Shotei (he changed his name in 1921) must have been fond of cats as he designed a number of other prints but this is by far and away the best.
Very fine impression with extensive blind printing on the cat's coat. Fine colour. Slight discolouration in margin at top left and right, otherwise very good condition. Signed Showa 6, 8th month, Hiroaki saku with Hiroaki seal.
Status: Sold