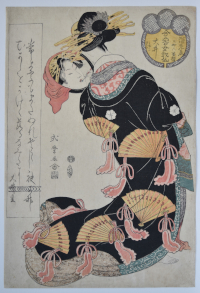 Click here to view image full size.
The courtesan Oi of the Ebiya smoking a pipe and admiring her reflection in a mirror. From a set Imayo onna kasen, sanjurokuban tsuzuki, "Thirty-six Modern Female Poets." In the panel to the left is an example of her calligraphy with the names of her kamuro: Miyako and Sakuro. Her sumptuous kimono is decorated with fans – the emblem of the house of Ebiya. Probably a pupil of Tsukimaro carrying on the tradition of Utamaro. Published by Nishimuraya Yohachi (Eijudo), 1813.
Very good impression, colour and condition. Signed Shikimaro ga.
Status: Sold