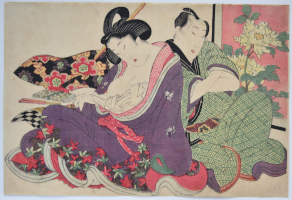 Click here to view image full size.
An amorous couple beside a screen decorated with a large chrysanthemum. From a set of twelve prints Keisei higo, "Secret Words of a Courtesan" published c 1822-25. Although coming under the heading of shunga, each print is an abuna-e design, without any graphic detail. Shows a courtesan with her client. She turns to tie the iwata-sash which indicates she is pregnant.
Fine impression. Very fine colour. Fine condition.
Status: Available