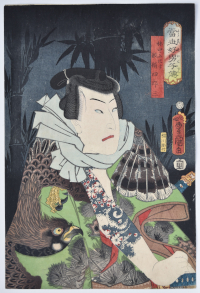 Click here to view image full size.
A bust portrait of the actor Bando Hikosaburo V as Samezaya Shiroza compared to Lin Chong (from the famed Chinese novel Shui Hu Zhuan, "Outlaws of the Marsh") retold by Takizawa Bakin (1767-1848) in his novel "The Water Margin: New Illustrated Edition" published in 1805. There are three groups of three prints with background motifs of Pine, Bamboo (as here) and Plum, being the symbols of longevity. He is shown with a heavily tattooed arm of plum blossom and his coat is decorated with a design of a large eagle enveloping his shoulders. Published by Hayashiya Shogoro, 1859.
Very fine impression. Fine colour and condition. Signed Ni Konomi Toyokuni ga.
Status: Sold