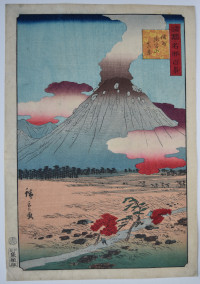 Click here to view image full size.
A view of a smoking Mt Asama, Shinano Province, from Shokoku meisho hyakkei, the "One Hundred Views of Famous Places in the Provinces." Mt Asama is an active volcano which violently erupted in 1108. Subsequently there was another eruption in 1783 and since then there have been minor tremors. Published by Uoya Eikichi between 1859 and 1861 (this being 1859).
Fine impression, colour and condition. Signed Hiroshige ga.
Status: Available