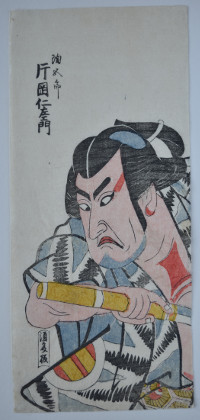 Click here to view image full size.
A kapazuri-e (stencil print) hosoban showing the actor Kataoka Nizaemon VII (1755-1837) as Togoro. A striking design and probably unique. There are similar prints signed by Chorakusai (Seikoku) and the publisher Suharaya Tosuke was active c. 1812-1829 and is known to have published prints by Seikoku. Published c. 1817.
Fine impression, colour and condition.
Status: Sold