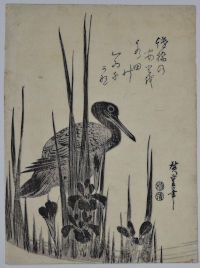 Click here to view image full size.
A half-block print showing a Japanese cormorant (?) and iris. Printed only in grades of sumi. In fact, this and the other half is illustrated in: Four Hundred Ukiyoe Woodblock Prints From The Museum Of Art, Rhode Island School Of Design, 1990, no. 166, p. 72 which shows fish and hydrangea on the other side. This is an aizuri print. The quality of impression here leads me to believe this might be a proof impression. Published by Shimizuya Naojiro, c early 1840s.
Fine impression, colour and codition. Signed Hiroshige hitsu.
Status: Sold