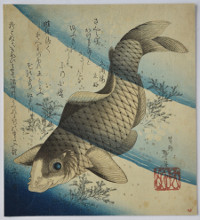 Click here to view image full size.
One of the great surimono designs and extremely rare: There appear to be four other genuine examples recorded, apart from this impression, which is from the Vever collection. (See Vever sale, Sothebys, 1977, lot 302. In fact, Vever had two copies. The other sold Vever sale, Sothebys, 1978, lot 231.) The Baur impression. See The Baur Collection, Matthi Forrer, Geneva, 1994, Volume 1, G224, and is also illustrated in the Chiba Museum catalogue, Ukiyo-e bino kiwami, 2001, no. 126. The Chester Beatty impression. See The Art of Surimono, Roger Keyes, Sothebys, 1985, vol. 2, no. 335, p. 384 (ex Gonse). And the MFA, Boston, impression, accession no. 11.20424, ex William Sturgis Bigelow. Three poems by Bunshuro Tomoyoshi, Bunkaro Kiyomaru, and Bumbunsha. Shows a carp swimming down amongst water-weeds and cherry blossom. The carp was a symbol of achievement against adversity in Japan and had a connotation with the new year. In fact, Taito designed another print of a carp amongst water-weeds which is part of a harimaze sheet and is most often encountered with the left calligraphy removed. Issued c 1832 for the Taikogawa Poetry Club. Vever seal bottom right.
Very fine impression with burnishing on the eye and the cherry blossom blind-printed. Fine colour. Minor foxing, otherwise very good condition. Signed Katsushika Taito.
Status: Sold