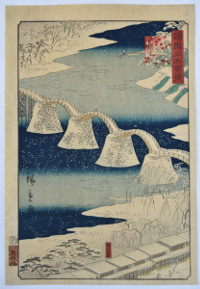 Click here to view image full size.
Suo Iwakuni Kintaibashi, "The Bridge of the Brocade Sash at Iwakuni in Suo Province." From an uncompleted set: Shokoku meisho hyakkei, "One Hundred Views of the Provinces." Published by Uoei between 1859 – 1861 (this being 1859). Shows the beautiful five-arch bridge spanning the Nishiki-gawa under heavy snow. The village of Nishikimi in the foreground. The bridge was built in 1673 using massive stone pilings because earlier bridges had been swept away. It was destroyed in 1950 due to a typhoon but rebuilt in 1953. The best print from the set and probably Hiroshige IIs finest design.
Fine impression of the first edition with mica applied. Fine colour. Minor edge discolouration, otherwise very good condition. Later editions lack the variegated cartouche and the colour-banded publisher's seal in left margin. Signed Hiroshige ga.
Status: Sold