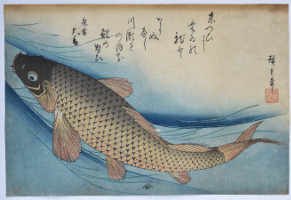 Click here to view image full size.
A koi, carp (Cyprinus carpio) swimming amongst reeds. Poem by Makuzu. From the second series of ten fish prints published by Yamasho, c. 1840-42. The first series was issued privately for a poetry group (probably the Shingyoku Circle) with judges' names and with extra poems. These prints are of the utmost rarity as probably only enough for the Circle were made and they never come onto the market. Due to their popularity this second set was commissioned. This is the very rare first edition with the reeds printed. Block defect showing but with gradation still on belly of fish. One of the finest designs from the two series. Very rare. Kruml 12a/b.
Fine impression. Slight fading and edge soil, otherwise very good condition. Without centre fold (in itself rare as they often have them). Signed Hiroshige hitsu.
Status: Sold