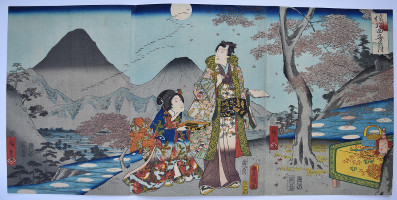 Click here to view image full size.
A triptych Shinshu Sarashina tagoro no tsuki, "The Moon Reflected in the Rice Fields at Sarashina, Shinano Province." Shows Mitsuuji, the romantic hero of the Inaka Genji ("A Rustic Genji"), admiring the multiple views of the moon reflected in the paddy-fields and about to compose a poem. On the left, Mount Kyodai. This phenomenon was greatly admired and pilgrimages were made to view it. There was a plethora of these Genji parody prints in the 1850s following two popular Kabuki plays and Hiroshige and Kunisada collaborated on a number of such triptychs. Interestingly, this design has a date seal for 3/1861 making it probably the last and based on an existing collaborative hanshita-e. Published by Moriya Jihei. Rare.
Superb impression and colour. Slightly trimmed round; sheets connected and album backing, otherwise very good condition. Signed Hiroshige ga and Toyokuni ga.
Status: Sold