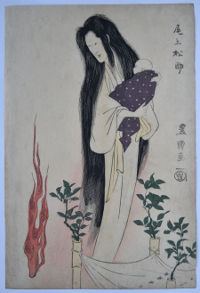 Click here to view image full size.
The actor Onoe Matsusuke I as the ghost of the wife of Kohada Koheiji in the play Eiri otogi zoshi performed at the Ichimura-za Theatre, 7/1808. In fact, Matsusuke played both the wife and Kohada Koheiji. One of the best plots in Kabuki: Kohada Koheiji was a third-rate kabuki actor who couldn't find work. His drama teacher, taking pity on him, bribed a director to give him work. On seeing him, the director immediately saw his potential as a yurei (ghost) because of his appearance – white skin, dark, sunken eyes and long hair. And at this he became extremely successful. However, his wife Osoka, was embarrassed by him and took a lover. Together, they planned to kill him which they did by drowning him in a swamp. This gave him his greatest yurei role and he came back to haunt them to death. Published by Tsuruya Kinsuke, 1808.
Very good impression and colour. Minor creasing, otherwise very good condition. Signed Toyokuni ga.
Status: Sold