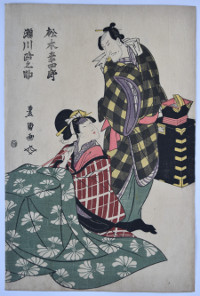 Click here to view image full size.
The actors Matsumoto Koshiro V (right) as the barber Nagata Taro; in reality Kamada Masakiyo, and Segawa Michinosuke I as Genkichi's wife, Osoro; in reality Nagata's younger sister, in the play Wakazakari Heike Monogatari, performed at the Ichimura-za Theatre, 11/1806. Published by Hachi.
Very good impression and colour. Minor creasing, otherwise very good condition. Signed Toyokuni ga.
Status: Sold