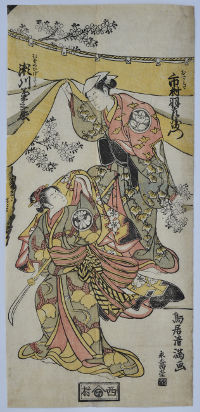 Click here to view image full size.
An hosoban benizuri-e print in beni, yellow and blue showing the actor Segawa Kikunojo II (bottom left) in the role of musume Kagekiyo and Ichimura Uzaemon IX (top right) as Osu…, possibly Osutoko. Musume means "daughter", while Kagekiyo was the famous general of the Heike clan. However, if Kikunojo were playing Kagekiyo's daughter then it would be written Kagekiyo musume. (His daughter was named Hitomaru and she does indeed feature in many plays about him.) But in this case, it perhaps refers to a female version of Kagekiyo's daughter after all and it's just written the other way round for some reason, then it would identify the performance and date nicely: the play would be Soga yawaragi Soga performed at the Ichimura-za Theatre in the 1st month of 1767. Published by Nishimura, Eijudo han. Extremely rare. (Many thanks to Paul Griffith for the elucidation above.)
Fine impression and colour. Slight vertical fold and small expertly restored wormhole near bottom edge. Signed Torii Kiyomitsu ga.
Status: Sold