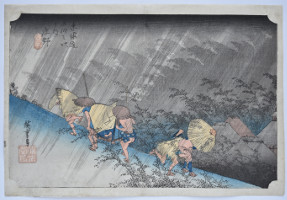 Click here to view image full size.
Shono, haku-u, "Sudden Shower at Shono" from Tokaido gojusan tsugi no uchi, "Fifty-three Stations of the Tokaido Road." The set published by Hoeido (Takenouchi Magohachi)/Senkakudo, c. 1833-4. Together with Kambara, one of Hiroshige's most celebrated designs, discussed and illustrated extensively. This is the very rare first edition: The waves of bamboo beautifully graded and strong woodgrain evident on the house roofs bottom right. See Sebastian Izzard, Hiroshige, The Ukiyo-e Society of America, 1983, nos. 17a-e for illustrations and a description of the various states. Although the area had thick groves of bamboo growing along the Suzuka River, there was nowhere that exactly matches the design.
Fine impression of the first edition with subtle gradation. Seals and green a little faded, otherwise very good colour. Slight centre fold, otherwise very good condition. Signed Hiroshige ga.
Status: Sold