Click here to view image full size.
An original painting, full colour on silk, 43.25 x 14 in; 109.8 x 35.6 cms. An early pupil of Hokusai (who gave him his name Hishikawa Sori in 1798, it previously being Tawaraya). Generally referred to as Sori III. Produced a considerable number of small surimono – some of which can be confused with Hokusai's work. Shows a beauty with a monkey at her feet. There is a print closely following the painting published in 1906. Illustrated in Nihon ukiyoe hakubutsukan, ed., Nikuhitsu ukiyoe senshu gekan (Selected Painting of Ukiyo-e, second vol.) Tokyo: Gakushu kenkyusha, 1985, plate 193.
In very good condition. Signed Hyakurin Sori ga with seal Sori.
Status: Available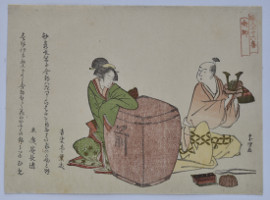 Click here to view image full size.
A samurai helmet maker (kabuto) from a series of surimono Shokunin sanjurokuban, "Thirty-six Poets as Craftsmen." Issued for the Asakusagawa Club in 1802. Hand-stamped series title top right. Sori was a pupil of Hokusai originally called Soji with Hokusai passing on the name to him. Shows a beauty leaning on a cabinet that holds armour. On the right the craftsman holding a helmet. The set was reissued in a slightly different format in 1803.
Fine impression, colour and condition with touches of gold. Signed Sori ga.
Status: Sold