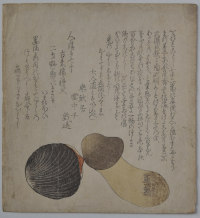 Click here to view image full size.
An unusual and rare surimono showing a matsutake, pine mushroom, and an akagai, red clam. Obvious sexual connotations due to their similarity to the human anatomy. The inscription is enigmatically signed Master In-The-Clouds or Humourously related by the Master who is relaxing and drinking while living in the clouds. With a reference to the Chinese immortal sage Yunzhongzi. Surimono were usually issued by poetry clubs or for specific occasions, although individuals also commissioned them. They could employ every artifice available to the printers and engravers: metal powders, mica, blind-printing and burnishing, and were printed on the best, thick hosho. They were not issued in large numbers as conventional Ukiyo-e and are usually of a smaller format.
Very good impression and colour. Slight soil, otherwise very good condition.
Status: Sold