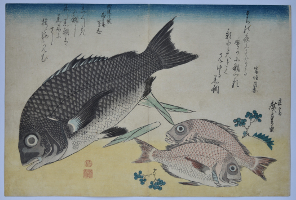 Click here to view image full size.
Kurodai, black sea bream (Acantho pagus schlegeli) and akadai, red bream (Pagus tumifrons) together with bamboo shoots and Japanese pepper. Poems by Tomigaki Uchiyasu and Kaoan Hoshi. From the first series of ten plus one prints published by Eijudo, c. 1832-34. The set was issued privately for a poetry group (probably the Shingyoku Circle) with judges' names and extra poems. These prints are of the utmost rarity as probably only enough for the Circle were printed and they seldom come onto the market.
Fine, early impression before the grey block defect on the tail of the black sea bream. Fine colour. Slight centre fold (as usual), otherwise very good condition. Full size. Kruml 10b (Andon 49). Signed Ichiyusai Hiroshige.
Status: Sold