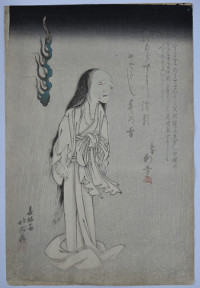 Click here to view image full size.
Onoe Kikugoro III as the ghost of Oiwa in Irohagana yotsuya kaidan, "Ghost Story of Yotsuya." Performed at the Kado Theatre, 1/1826. Probably the best known Japanese ghost story and has been made into a number of films. Tamiya Iemon, a masterless samurai, murders the wife he has disfigured who comes back to haunt him until he is driven mad and subsequently killed by Oiwa's brother. Evidently, Kikugoro's performance was something of a sensation at the time as he gave a bravura performance playing both the ghost of Oiwa and Koheiji who were nailed on opposite sides of a panel dropped into the river. There are at least five states of this print. The first appears to be that illustrated in Roger Keyes, The Theatrical World Of Osaka Prints, Philadelphia Museum Of Art, 1973, no. 34, p. 108 with the engraver and two printers and the writing printed in silver. The example offered here appears to be a second state without the engraver and printers' seal but with the writing still printed in silver. Other impressions with different seals and lacking the first three lines of writing and the silver are known. See The Tsubouchi Memorial Theatre Museum of Waseda University catalogue, Kamigata Prints in the former period: part 1, nos. 279 and 280. Also BM impression 1962,0210,0.2 which may be the last state.
Fine impression and colour with calligraphy in silver. Very good condition; full size. Signed Shunchosai Hokushu ga.
Status: Available