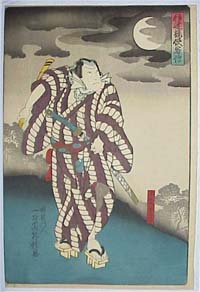 Click here to view image full size.
The actor Kataoka Gado II as Honchomaru Tsunagoro in the play Honcho itoya no musume performed at the Chikugo theatre in 8/1849. From the set: Date kurabe kyokaku den, "A Comparison of the Stylishness of Famous Gallants".
Fine deluxe surimono-style impression and colour. Margin trimmed to black line at left, otherwise fine condition on deluxe hosho. Signed Kunimasa monjin Masuharu ga ( "Masanobu pupil of Kunimasu" ).
Status: Sold