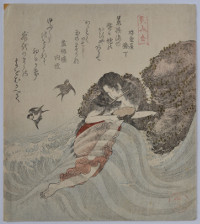 Click here to view image full size.
A surimono with series title Bijin awase, "Beautiful Women." Shows a scantily clad diver emerging from waves holding an abalone shell and clinging to a rock. There are obvious erotic overtones to this wonderful surimono: Awabi divers were objects of great voyeuristic curiosity to the general public and feature in many aspects of Japanese art. Poems by Chinchoya Chincho and Jingoro Takumi. Provenance: Ex collection Louis Gonse, 1846-1921, who was a great collector of Japanese art and published L'Art Japonaise in 1883. Seal au verso. Very Rare: Other impressions are in the Chester Beatty Library, Dublin. See The Art of Surimono, Roger Keyes, 1985, no. 236, p. 267; MFA, Boston, RES.46.27; and illustrated in McKee, Colored in the Year's New Light: Japanese Surimono From The Becker Collection, Cornell University, 2008, no. 112.
Fine impression and colour with silver printing to the waves. Evidence of mounting around edge au verso, otherwise fine condition. Artist's seal Kuninao.
Status: Sold