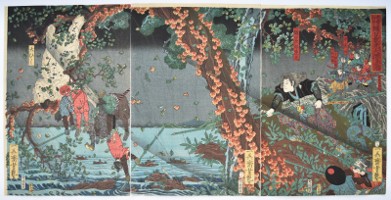 Click here to view image full size.
Higuchi no Jiro Kanemitsu, a retainer of Kiso no Yoshinaka, in the Kiso Mountains encounters a giant white baboon (ohishi) which has been terrorising the countryside and attacks it with a long bamboo spear. The creature hangs from a tree with one of Kanemitsu's followers in its mouth. Published by Tsujiokaya Bunsuke (Kinshodo), 1858.
Very fine impression and colour. Fine condition. Signed Ichieisai Yoshitsuya ga.
Status: Sold