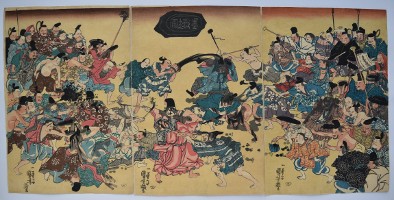 Click here to view image full size.
A triptych of the Ink Wars, Bokusen no zu. Evidently a court pastime during the Nara period (710-794) was to stage ink battles. Courtiers are involved in throwing ink and daubing each other with brushes. Published by San, 1843.
Fine impression, colour and condition. Signed Ichiyusai Kuniyoshi giga.
Status: Sold