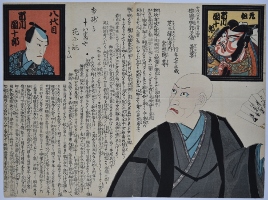 Click here to view image full size.
An oban diptych shini-e (memorial portrait) of the famous kabuki actor Ichikawa Danjuro VII (1791-1859). Upper right is the date of his burial, Ansei 6 (1859), 3rd month, 24th day. A long inscription at left on his life. The image top right shows his great-great-great grandfather, the first Ichikawa Danjuro (1660-1704). The other image, top left, shows Danjuro VIII (1823-1854), his son, who predeceased him by 4 years. See Waseda University Theatre Museum, acc. Nos. 114-0330 and 114-0332 (attributed to Kunichika).
Fine impression and colour. Light album backing, otherwise fine condition.
Status: Sold