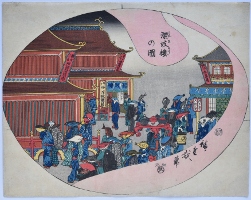 Click here to view image full size.
An uncut fan print with title Shinkiro no zu which has a double meaning of being the Yoshiwara in the deep sea and also a chimera or mirage. The scene enclosed in a (dreaming ?) bivalve shows visitors in a watery Yoshiwara, all with fish heads. Of the utmost rarity: This appears to be the only impression known. There are also what appear to be keying marks on three sides that have not been removed. Published by Shinagawaya Kyusuke with censor seal for 1845.
Very fine impression. Fine colour and condition. Signed Hiroshige giga hitsu.
Status: Sold