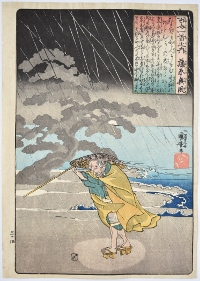 Click here to view image full size.
A poem by the Heian waka poet Fujiwara no Okikaze , one of the Thirty-Six Immortals of poetry. Shows the poet with a lantern walking along the shore of Takasago Bay past one of the famous pines, all in heavy rain. His famous poem refers to the pine. From a set Hyaku-nin isshu, "The Hundred Poets." The series published by Yebi-Ne, 1840-2.
Fine impression. (This appears to be the first edition with the pine printed lightly in two tones.) Fine colour and condition. Signed Ichiyusai Kuniyoshi ga.
Status: Sold