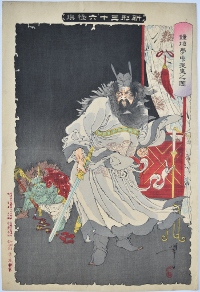 Click here to view image full size.
Shoki appearing in the Chinese emperor Ming Huang's dream and cleansing him of a fever demon. From the set Shinkei sanjurokkaisen, "New Forms of Thirty-Six Ghosts." The set published by Sasaki Toyokichi, 1889 – 1892 (this being 1890).
Very fine first edition, fine colour and condition. Signed Yoshitoshi.
Status: Sold