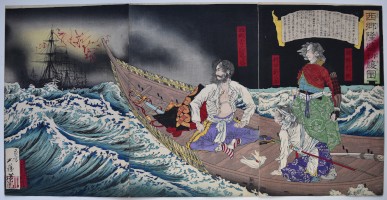 Click here to view image full size.
A triptych showing Saigo Takamori about to commit seppuku in a boat. Next to him are Murata Shinhachito and Kirino Yoshiaki. Saigo Takamori seppuku no zu. The "last true samurai," he was instrumental in overthrowing the Tokugawa Shogunate. However, he had a falling out with the new Meiji government and returned to his native Satsuma in 1877 and led the so-called Satsuma Rebellion. This failed after seven months and the three in the boat were the last survivors of the rebellion. Published by Okura Magohei, 1877.
Very fine impression. Fine colour. Original album backing, otherwise good condition. Signed Oju Taiso Yoshitoshi.
Status: Sold