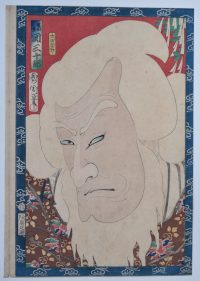 Click here to view image full size.
The actor Seki Sanjuro III as Saruta Hiko in the play Yoinakatomi Kiyome no mikagura staged at the Ichimura-za Theatre 8/1869. From a set of at least 22 prints published by Gusokuya Kahei, 1869. Kunichika was a hack artist who nevertheless produced some fine triptychs (horizontal and vertical) and this fine set of actor bust portaits.
Fine impression with extensive blind-printing on the beard and hair. Fine colour. Slight foxing and crease in left margin, otherwise very good condition. Signed Kunichika hitsu.
Status: Available