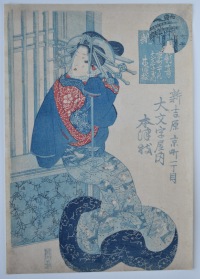 Click here to view image full size.
An aizuri-e print of the courtesan Hontsue of the Daimonjiya House in the Yoshiwara, Edo. Seated on a ledge, she holds an extremely long pipe and is compared to one of the sights of Edo: The Ryogoku Bridge. Published by Kawaguchiya Chozo, c 1830s.
Fine impression, colour and condition. Signed Ichiyusai Kuniyoshi ga.
Status: Sold