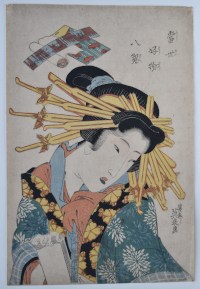 Click here to view image full size.
Decorative paper from a series Tosei kobutsu hakkei, "Eight Favourite Things in the Modern World." The set compares beauties with their favourite "things." In this case paper, shown top left, while other designs from the set compare beauties to dolls, playing cards, the theatre, kimono, etc. Shows a Yoshiwara courtesan holding a bundle of folded tissue. She has sasabeni lips: the lower lip painted with sasa from the bamboo plant, and the upper lip using beni from the safflower. Published by Senichi (Izumiya Ichibei), c 1823.
Fine impression. Slight fading and minor soil, otherwise very good condition. Signed Keisai Eisen ga.
Status: Available