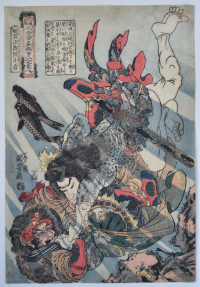 Click here to view image full size.
The heavily tattooed bandit Tanmeijiro Genshogo grappling with an adversary under water. One of the great designs from Tsuzoku Suikoden goketsu hyakuhachi-nin no hitori, "The Hundred and Eight Heroes of the Popular Suikoden, One by One." Genshogo was famous for his tattoos and for the ability to stay under water for long periods. This large set and accompanying designs from the same period was a turning point in Kuniyoshi's career. Published by Kagaya Kichibei, 1828-9. Robinson S2.69.
Fine impression and colour. Slight thinning of paper towards top; very slight centre fold and minimal soil at top, but otherwise fine condition. Alternate, later impressions lose the beautiful gradation in the water. Signed Ichiyusai Kuniyoshi ga.
Status: Sold