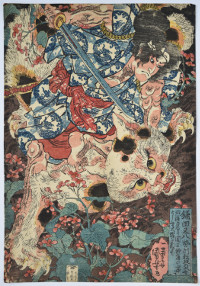 Click here to view image full size.
Kamada Matahachi of Matsusaka in Ise Province killing a monstrous cat. These mountain cats – nekomata – were reputed to eat humans. Published by Tsutaya Kichizo, c. 1840. Robinson S1e.3. A wonderful and rare design.
Very good impression and colour. Repair bottom right corner and slight trimming, otherwise good condition. Signed Ichiyusai Kuniyoshi ga.
Status: Available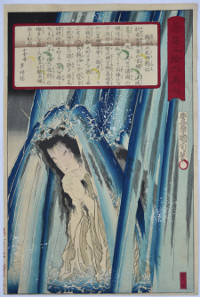 Click here to view image full size.
Uba Shizu of Nabeshima praying under a waterfall from a set Zen'aku sanuroku bijin, "Thirty-six Good and Evil Beauties." The set published by Sawamuraya Seikichi, 1876.
Very fine impression and colour with splashed gofun. Very good condition. Signed Toyohara Kunichika hitsu.
Status: Sold