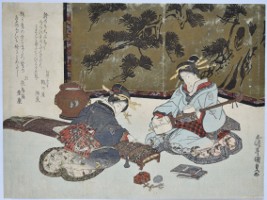 Click here to view image full size.
A chuban surimono showing two geisha playing a shamisen and a koto in front of a Kano-school gold-leaf screen. Two poems by Tsukinoya Tsuruhiko and Kachoya Noritsuga . A beautiful surimono.
Very fine impression with extensive gold, silver and bronze. Fine colour and, apart from a little loss of gold on the screen, in fine condition. Signed Gototei Kunisada ga.
Status: Available