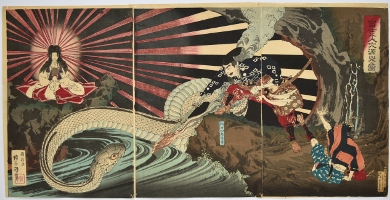 Click here to view image full size.
A triptych showing Nitta no Shiro Tadatsune encountering the Goddess of Mount Fuji and her dragon in a cave on Mt. Fuji. (Bodhisattva Kannon [Buddhist]; spirit of Mt. Fuji [Shinto].) Tadatsune's comrades were afraid to enter the cave and the Goddess commends him on his bravery. Published by Inoue Mohei, 1885. A little known pupil of Yoshitoshi who recognised him as a pupil and named him Toshinobu, which he kept until he died. A wonderful design.
Fine impression and colour. Minor pin holes at corners and slight centre folds, but otherwise very good condition. Signed Utagawa Kuniume aratame Shusai Kuni… (?) changing his name to a Kuni but unread. This must have been a short-lived change as the name is not recorded.
Status: Available