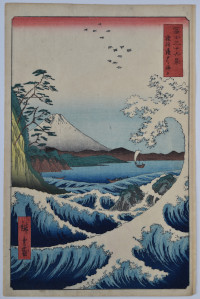 Click here to view image full size.
Suruga Satta no kaijo, "The Sea at Satta, Suruga Province" from Fuji sanjurokkei, "The Thirty-Six Views of Fuji." The best design from the set published by Koeido (Tsutaya Kichizo), 4/1858. A huge wave breaks on the right releasing a flock of chidori. These birds were supposed to originate from the spume of these waves. Originally, travellers on the Tokaido had to traverse the base of the cliff, to the left. However, in 1655, a pass was cut in the cliff above. Fuji rises above the bay of Kiyomi. A popular design.
Very good impression and colour. Crease in right hand margin, otherwise very good condition. Signed Hiroshige ga.
Status: Sold