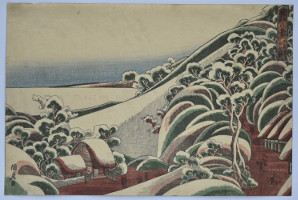 Click here to view image full size.
An aiban yoko-e print from an extremely rare and fine set of prints published 1810s by Yamasho. Kunitora's finest set. Hira bosetsu, "Evening Snow at Mount Hira" from a set Omi hakkei, "Eight Views of Omi." The set employs strong Western elements with hatching and sinuous hills and houses. Four designs from the set are illustrated in The Western-Style Colour-Prints In Japan, Usaburo Toyama, 1936, nos. 180-183 (this design being 182). A wonderful design.
Fine impression, colour and condition. Oxidation on the title label. Signed Kunitora ga.
Status: Sold